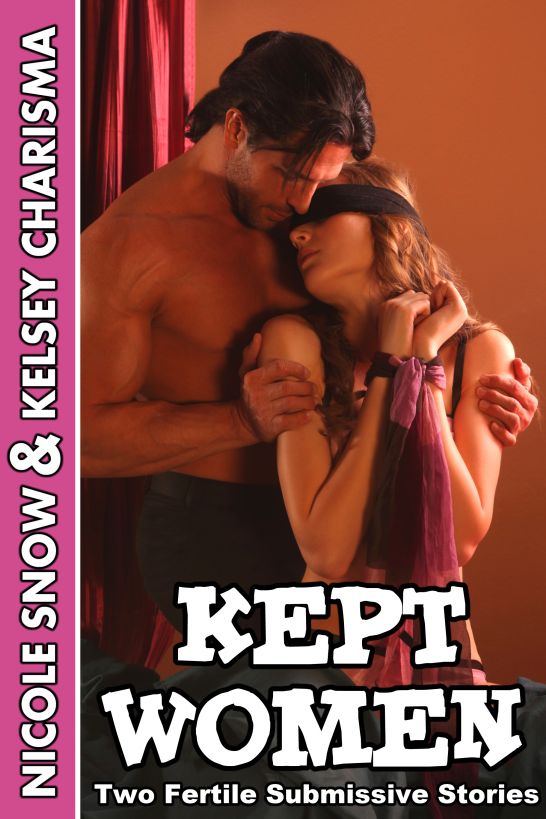 Kept Women: Two Fertile Submissive
Stories

By Nicole Snow and Kelsey Charisma

Content copyright 2013 Nicole Snow and Kelsey
Charisma. All rights reserved.

Smashwords Edition.

Disclaimer:
The following ebook is a work of fiction. Any
resemblance characters in this story may have to real people is
only coincidental.

All individuals depicted in this work are
adults over the age of eighteen years old.

License Notes:

This ebook is licensed for your personal
enjoyment only. This ebook may not be re-sold or given away to
other people. If you would like to share this book with another
person, please purchase an additional copy for each recipient. If
you're reading this book and did not purchase it, or it was not
purchased for your use only, then please return to Smashwords.com
and purchase your own copy. Thank you for respecting the hard work
of this author.

Description

SUBMISSIVE, FERTILE, AND RIPE FOR
DOMINATION!

Some women seek adventure and careers.
Others just want to be kept.

This erotic romance set spotlights two
strict, wealthy Doms, and the submissives who become their dark
obsessions. Curiosity brings them into their boss' embraces. Lust,
hard pleasure, and pure baby making heat keeps them there
forever...

Under His Control – Nicole Snow:
April took a Baltic cruise to escape a life gone
off track. Wealthy, powerful, and irresistible, Nicholas
Voroshlov's job offer is just the re-boot she needs.

Except this Russian Dom isn't looking for a
hired hand to make life easier. He's out for a submissive to keep,
soft flesh to ravage and spank, a fertile womb to forge a bigger
family. To April, it's perfect! Too bad sweet baby making
submission draws serious danger...

Whatever He Wants – Kelsey Charisma:
No nonsense Mr. Callaway is strict, intense, and
wickedly skilled in manipulation and punishment. When he confesses
to wanting her, Jane isn't convinced it's true love.

Before consenting to have his baby, she
needs to know the depth of his feelings, and how far he'll go to
make her his kept woman...

An all new book with two complete stories by
Kelsey Charisma and Nicole Snow!

Word count: 35,000+ words.

Under His Control

By Nicole Snow

I: A Foreign Offer

Forget it all, April. Take a cruise around
the Baltic. Get your head straight. You're a grown woman now.

I remembered my father's words, wondering
why the hell I'd been dumb enough to take a Baltic cruise in early
Spring. Stepping on the lonely deck instantly reminded me how cold
it was outside.

The seas lashed beneath the luxury yacht,
waves like unsettled counterparts to the heavy iron sky above. The
clouds never seemed to break no matter where we made port.

Kaliningrad, Gdansk, Stockholm, Helsinki,
and finally Russia's misty winter coast. It was always the same,
huge gray sheets rolling across the sky, occasionally ripping open
to shower us with snow.

By week two, I was ready to return to
Virginia. Hell, even London would do.

Baltic cold could do funny things to a
girl's head. Damn it, Dad, why hadn't you told me about that?

Maybe you'll meet a
handsome man,
he teased, the only sincere
fatherly wisdom he had to offer after dragging me to some stupid
conference on landmines in the UK.

I couldn't remember why I'd fled home with a
swish and a smile to go to Europe. Were my prospects really that
bad?

Yes, yes, yes. And yes.

Even a powerful US diplomat's daughter had
every door slammed in her face after flunking out of veterinary
school. Veterinary tech school, to be brutally honest.

I sighed, pushing the grim memories aside,
listening to the click of my heels echo down the ship's spacious
corridor. I'd just finished pecking at a caviar, cheese, and wine
lunch in the dining hall, the day's main highlight until dinner
time.

Huge glass panes showed the snowy shores and
frigid seas, my constant companions since I'd stepped onto the ship
in Oslo.

I muttered to myself, cursing the chilly
Baltic, my girlish apathy, my family's upper middle class largesse,
my own boredom.

Everything.

I didn't even see the boy coming toward me
until it was too late.

He was like a brick with outstretched arms
slamming into my knees. I yelped, jumped, and caught myself on the
gold banister near the windows.

"
What the fuck?" I
shouted, thankful I hadn't twisted an ankle. High heels had their
risks even here.

I spun, ready to lay into whatever clumsy,
bloated drunk had staggered into me. When I saw the boy's repentant
look and giant puppy dog eyes, I softened.

"
You! Where are your
parents?" I shook my head, stepping toward him. "You almost bowled
me right over, young man."

I got a better look at him. He was a kid
with bright eyes and sandy medium hair, no more than six or
seven.

"
Nyet. Nyet!" The boy
cried.

I stopped. I hadn't even laid a hand on him
when I heard his strange protest. I could've smacked myself.

Of course! He wasn't an American.

Probably a spoiled son of the many fat, gray
Russian men who flopped around the ships half-drunk, the only men
I'd seen on the cruise. A few older Brits on a lazy sightseeing
cruise notwithstanding.

"
Listen to me!" I lowered
myself to his level. "I know you probably can't understand me, but
I want to help you. Let's find your parents."

He stopped shaking and blustering in sharp
Russian. I took the edge out of my voice, gesturing him to my
side.

The boy started to cry. I melted a little,
and suddenly welcomed the distraction.

This was a problem I could solve. And unlike
everything else back home, it wouldn't involve me flipping out or
bursting into tears to do it.

"
You're gonna be fine,
little guy. Just follow me. We'll find the idiot who left you
unattended and running around the ship. I promise."

Too bad I didn't know where to start. Most
of the old dudes were in their quarters after lunch, sleeping off
their handovers and preparing for the evening.

I didn't have a clue how I'd find out who he
belonged to. Did these Russians know any English at all?

Shrugging to myself, I kept moving. Language
barrier or not, it didn't stop me from rolling forward, making sure
the little boy matched my steps as we rounded the corridor.

First, we walked by the front desk aide who
managed what was effectively room service. I didn't care to wake
the sleepy Brit at the counter. He barely cracked his eyes to give
me a polite nod as we walked past.

On we walked, past the huge dining hall.
Crews in neat white uniforms hovered near the tables, still picking
up plates and mopping floors after lunchtime.

I was starting to get nervous. What was
going on here? Did someone leave this kid in their room alone and
he'd gotten out? Was I missing an obvious parent nearby,
desperately searching for their son?

I came to the end of the hall and winced.
There was nothing past the huge black door but another observation
deck. It had started snowing lightly again outside – just my
luck.

The flakes caught my attention, landing big
and puffy and wet on the ship's hard floors. In the pallor behind
the glass, I saw him.

He was a tall man, a black shape in a long
trench coat that nearly reached to the ground. He stood straight,
unflinching at the cold, staring over the ship's deck at icy seas
and shores.

I edged toward the glass, reaching for the
boy's hand. He didn't fight me this time, but I held on tight,
making sure he was well in my grip as I pushed open the door and
stepped out into the freezing cold.

"
Hey! You! Is this your
son?" The wind blew, burying my words.

I flushed angrily and clacked across the
cold deck, hoping it hadn't iced over. Sure, the yacht had heated
floors, but I wasn't taking any chances.

The man I approached gripped the ship's cold
railing with his bare hands, staring dully into the sea. He hadn't
heard a thing.

At last, the wind gave us a break. He
must've heard my heels clicking toward him because he turned to
face us a second later.

"
Grigor!" He spun all the
way, crouching to the ground.

The little boy broke my grip and ran to meet
him. The man opened his arms and caught him, then locked onto his
small shoulders, holding him as he uttered a mixed relief and
warnings in quick fire Russian.

I stood awkwardly, studying the weird scene
in the cold, folding my arms for warmth.

The stranger stood, giving me a good look at
him for the first time. He was tall and muscular, his hard angles
obvious even beneath the layers protecting his body.

His face looked strong and unblemished. Most
of all, the same bright eyes I'd seen on the boy stood out,
anchoring his gaze. Blue fire danced in his eyes, vivid and mature,
pointed right at me.

"
Thank you," he said in
perfect English. My eyebrows flipped up in surprise. "You're the
first stranger who's handled my son so well. And what do you say,
Grigor Nikolayevich?"

"
Thank you, Missus," the
boy said in a shaky, soft voice.

I almost whacked my forehead with my palm.
Damn, he'd understood everything I said to him the entire time!

I almost felt a little betrayed, but I was
just glad the kid was safe in his father's arms. I waved,
encouraging them to step inside and get away from the glacial
sea.

Who wanted to freeze out here a second
longer than absolutely necessary?

The man nodded. Holding his son's hand, he
walked right past me, holding the door out as soon as he was
inside.

"
You really ought to keep
a closer eye on him," I snapped, annoyed by the cold.

The handsome face frowned. "No harm has ever
come to my son. Nor will it. You'd understand, if you knew who I
am. I'm too strong to be a fool."

I bristled at his immense, foreign
confidence. No man back home would ever say anything like that –
certainly not to me. And not about himself.

"
Nicholas Vladimirovich
Voroshlov. Pleased to meet you, though I see you may not feel the
same way about me." He extended a hand.

I looked at it for a moment, and finally
decided to lower the stone-cold-bitch defenses. Dear old dad had
taught me to be diplomatic overseas, after all.

We pressed two cold hands together. I was
surprised to find his grip warmer than I'd expected, thick and
calloused like a laborer's, and very strong.

The shake lowered to a stable hold, a grip
in no hurry to let go. I relaxed my fingers and locked eyes with
him.

"
My name's April Gallaway.
Yeah, I might be a little harsh, but it's nice to meet you
anyway."

Nicer than expected.

I turned my eyes away and blushed as the
world's longest handshake ended. I knew Nicholas was still watching
me, those ice blue eyes as piercing and unsettled as the Baltic
sea.

"
Will you be down for
dinner later?" He asked.

My feet swept one step back and I looked at
him, unable to hide my surprise. He certainly was a bold one, even
for a fearless Russian with some serious money behind him.

"
Yes. Why?" My voice came
out like a whisper.

"
So we can talk more then,
of course. To get better acquainted. I'd like a break from staring
at cold waters and fat men hitting on the young waitresses, Miss
Gallaway. You will be my change of scenery. A very pleasant one at
that."

My response caught in my throat. I wasn't
sure if he was making a request, a demand, or just flat out hitting
on me. Even so, I couldn't deny that he'd read my mind. It was nice
to find someone else as sick of business as usual.

"
April," I muttered. "I
don't like to dine with guys who can't call me by my first
name."

He laughed. A loud, baritone chuckle swirled
around me like a small whirlwind, tightening its hold for an
instant before fading.

"
April, then. We'll get to
know each other later. Look forward to it."

He turned smartly, still smiling, and began
walking down the hall. I lingered, alone with my thoughts.

Look forward to it?
I couldn't stop wondering if his last sentence
was a command or a compliment.